Magee East #1 ~ 3.27.21 ~ 2021 LEWT/BWWC Tournament Report & Full Standings
35.96# seals the deal for Magee East
David Kraut and Sam Downing claim to get "Lucky" and take home top price for Magee East. Downing and Kraut trolled Bandits around the cans to catch their biggest five fish. Ryan Yonkers and Cole Carlson, on the other hand, caught their five fish 20 miles away on the east side of Kelly's Island to bring in 34.79# and second place. Carlson located the fish during pre-fishing and had to work the Lowrance a little to find them again on tourney day but, It was a fire drill after setting up.
James Balog and and Corey Francis brought 33.02# to the scales starting off their run at 2021 TOY. Lucas "Yeti' Hahn and father G man continue their success weighing in 32.55# and cashing a check in 4 out of the last 5 tournaments! Rounding out the top 5 was Captain David Frey and Lonnie Hanchosky. The Big Albemarle didn't have to beat the seas in Erie this time around so I'm sure fishing in style tastes that much sweeter when bringing in 29.84# for 5 fish.
Husband and wife combo Edgar and Vicky Trent brought in the days Biggest Eye at 10.53 lbs! Edgar and Vicky nabbed up the Big Fish Side Pot with the big catch! Father/daughter Aaron and Jordyn Humbert claimed Sharpnack Chevy's contingency price being the highest finish owning a Sharpnack Chevy.
Gift Cards from Aqua Traction – AMF Marine, DB Marine, and Hook and Drag Apparel were given out to anglers finishing just out of the money!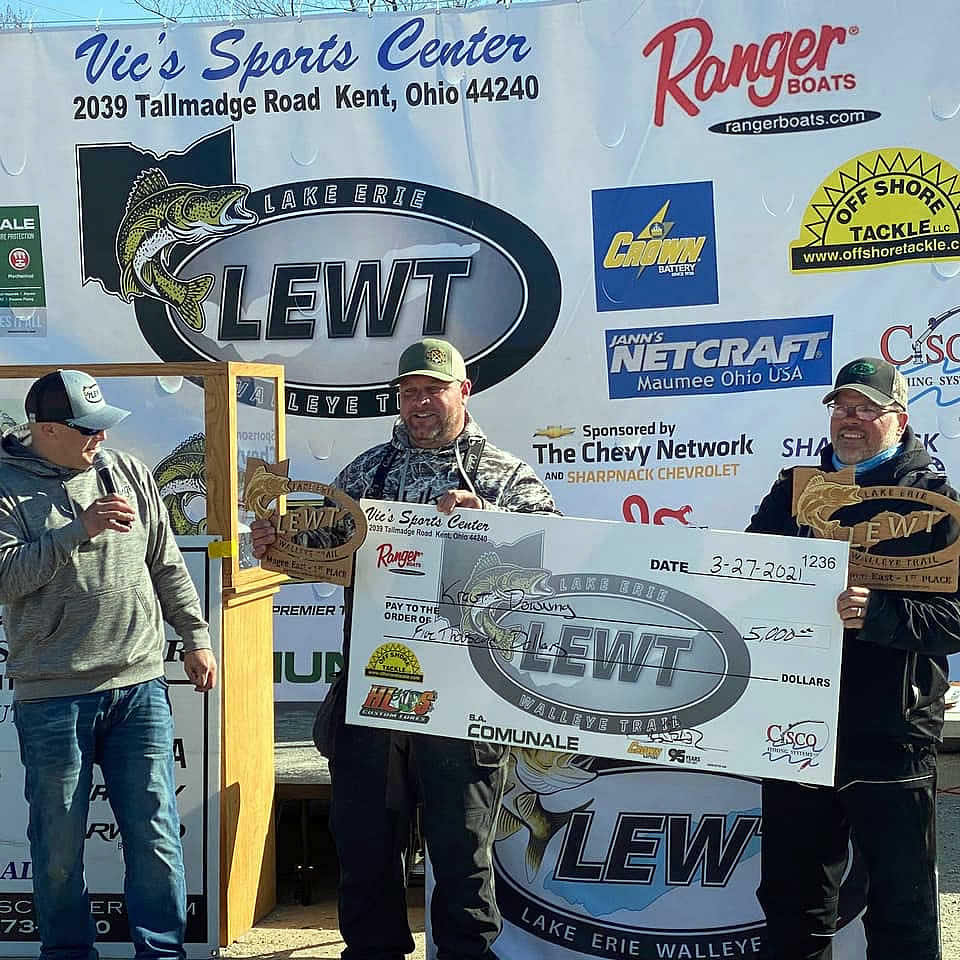 Thank you to our sponsors and it pays to shop with those who support the LEWT!
Magee East was a great host and processed most of 920-lbs of Lake Erie walleye to donate to local food banks and churches. Thank you Ted Thomas and Magee East!